Studio Visit with Artist Leslie Wayne ?>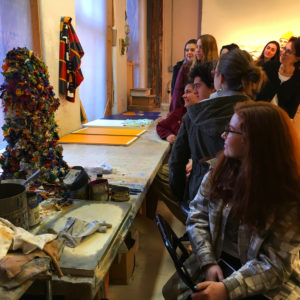 Join Prof. Ruble's Painting I class for a studio visit with NY-based artist Leslie Wayne.
Leslie Wayne manipulates the medium of painting by approaching oil paint as a sculptural material, often times scraping, folding, cutting, and building up the surfaces. Evoking the experience of geology and natural phenomena, her work takes on three-dimensional forms with layers, varying textures, and colors. Wayne has been the recipient of numerous awards, including the Joan Mitchell Foundation Artist Grant, the New York Foundation for the Arts Fellowship, the Adolph and Esther Gottlieb Foundation Artists Grant, and the Pollock-Krasner Foundation Artist's Grant. Her work has been shown nationally and internationally and is included in many museum collections. She is represented by Jack Shainman Gallery, where she has had five solo exhibitions.